About the Institute
Modern health care is fueled by technology and by steady progress in areas like precision medicine, molecular imaging, neurobiology and cognitive science. But more fundamentally, health care is about people, about our diverse natures and about our ability to understand, sympathize and support each other and ourselves. 
Catalyzed by Denny Sanford's vision and generosity, the T. Denny Sanford Institute for Empathy and Compassion at University of California San Diego was founded with a generous donation in July 2019. The Institute represents an unprecedented blending of two parallel themes: employing the unyielding rigor and tools of science to establish the neurological basis for empathy in the brain to identify the mechanisms that transform compassion from biology to behavior, and experimenting with and developing new ways to teach and instill empathy and compassion in clinicians currently practicing and in the teaching of future generations of health professionals.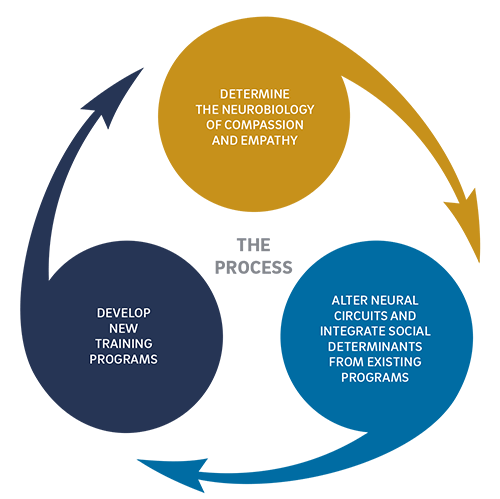 The time is right for an  empathy-driven change. The time is now. Advances in brain imaging and the neurosciences allow previously unimaginable insights into the workings of the human mind, but not necessarily how to translate that knowledge into a benefit for patients or providers. 
A physician's ability to engage with empathy demonstrably influences how a patient feels during and after a visit — good communication is as intrinsic to accurate diagnosis as the most sophisticated instrument or test, and crucial to ensuring optimal outcomes. On the other side of the stethoscope, physician burnout, depression and suicide have become national health crises. Physicians need help to heal themselves. 
Harnessing the deep neurobiological resources and expertise in social sciences, engineering, data science and other disciplines throughout UC San Diego as well as the University's international reputation for collaboration and innovative thought, the Sanford Institute will seek answers and remedies, leading a new era of health care based upon empathy validated by science.
Mission
By exploring the neurobiology of empathy and compassion, and applying its lessons, to markedly enhance the ability of those in healthcare to sustain and increase their practice of empathy and compassion. 
To make available to all the benefits of our efforts, thus to secure a kinder, more compassionate world. 
Aims/Vision
Explore the neuroscience of empathy and compassion
Discover novel methods for enhancing empathy and compassion
Apply research advances to education and training 
Focus initially on medical students and faculty
Extend to the entire UCSD community and beyond