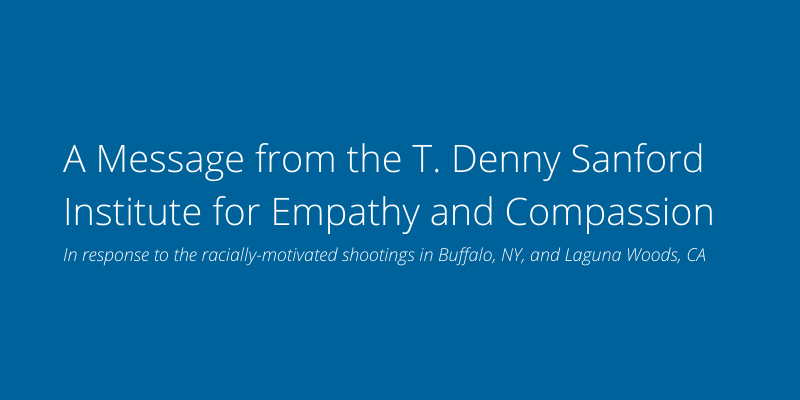 Dear Members of the T. Denny Sanford Institute for Empathy and Compassion Community—
We are deeply saddened by the heartless, racist acts of violence in Buffalo, NY, and Laguna Woods, CA, this past week – claiming the lives of ten members of the Black community and one member of the AAPI community, respectively. We offer condolences to the victims' families and hold great hope they may have the space to grieve and start the healing process.
We stand in solidarity with our Black and AAPI communities here at UC San Diego and across America, but we recognize that is not enough. These hate-fueled incidents, like so many before them, have forever changed these communities as well as society. They also serve as a powerful call to action for us all: to recognize and uproot our culture of individualism, and embrace our common humanity through advocacy and pro-social action.
Thus, we call on you to:
Join us in compassionate action to uplift Black, AAPI, and other marginalized communities, so they may enjoy the right to live safely, with dignity, and with rightful presence;
Emphatically condemn the tenets and practices of racism and white supremacy;
Act in strengthening our interconnectedness; and,
Listen to one another with humility and respect.
Because in the pursuit of collective justice, we must practice empathy and allow it to motivate compassionate actions. 
In 2021, we partnered with the Teaching + Learning Commons Engaged Teaching Hub to expand the Changemaker Fellows Anti-Racist Pedagogy Learning Community. This joint effort marked the beginning of our Institute's journey in deepening our awareness of systemic oppression and biases in education, while also addressing it head-on. It is grounded in anti-racism literature, informed by scholars of color, promotes the well-being of Black, Latinx, Indigenous, and minoritized students, faculty and staff — and we intend it to be a lasting component of our work. 
Today, and every day, we encourage you to actively listen to BIPOC+ leaders and elevate their voices to inform systemic solutions to present-day racism and casteism. Together, we can secure a kinder, more compassionate world.
T. Denny Sanford Institute of Empathy and Compassion